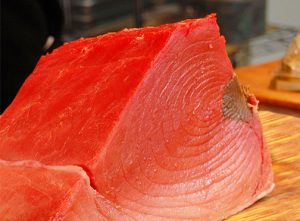 Overseas shippers send us fresh tuna via air cargo. After clearing customs at Narita or Kansai International Airport, our agents move the tuna to transportation facilities for re-ice. They will send us pictures of tail cuts, then looking at the pictures, we decide which market to divide and send tunas for auction.
We usually send tuna to main central auctions around Japan, other than that, we also sell to the wholesalers at fixed price.
---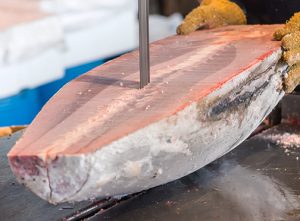 We handle frozen Bluefin tuna and Southern Bluefin tuna caught at Mediterranean coast, Mexico and Australia. Both wild and farmed.
Tuna is gutted and took out blood immediately after the catch on the boat.
Then transfer to a large processing frozen ship, process it into fillets and loins, and blast freeze at -60 ° C for about 18 hours.
In order to meet the needs of customers, we may further process it into blocks, Kawara, Saku etc.
---