紅白はじかみについて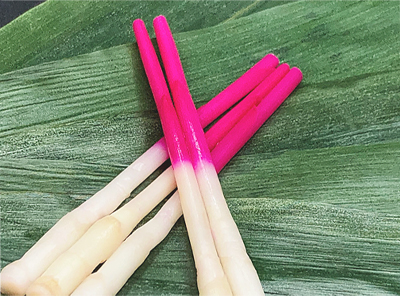 目と舌で楽しむ日本料理。
はじかみ生姜は、鮮やかな紅白で見た目の美しさを引き立てるだけでなく、さっぱりとした口当たりで食欲をそそります。
葉付きの若い生姜「葉生姜」は辛味もマイルドで風味がよいことが特徴です。
その葉生姜を遮光された空間でゆっくり育てて収穫し、厳しい選別作業を経て、
茎の部分をお酢に漬け込んだものが本品です。
焼き魚のあしらい、天ぷらに添えて、またお節などのお祝い料理、仕出し弁当等の飾りなどにどうぞ。
サイズはLサイズ50本入り(長さ約12~13cm)とSサイズ100本入り(長さ約8~9cm)の2種類をご用意しております。
器や重箱の仕切りに合わせてお選び頂けます。
本品は冷蔵または冷暗所に保存することで、いつまでも鮮やかな紅白色を保って頂けます。
規格
About Pickled Ginger Shoot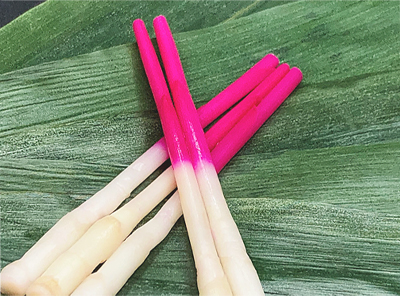 Japanese food that you can enjoy with your eyes and tongue.
Kohaku Hajikami (Pickled Ginger Shoot) not only enhances the beauty of its appearance with vivid red and white, but also has a refreshing mouthfeel that tantalizes your appetite.
Young ginger with leaves, "leaf ginger," is characterized by mild spiciness and good flavor.
After carefully growing and harvesting the leaf ginger in a light-shielded space to avoid sun burn, product only uses the stem part. At the end, dipping the stem in vinegar complete this product as Pickled Ginger Shoot.
Serve with grilled fish, tempura, or for festive dishes such as "Osechi" or as decorations for Japanese lunch boxes (Bento Box).
Two sizes are available: 50 L size (12 to 13 cm long) and 100 S size (8 to 9 cm long).
You can choose according to the partition of the container and box.
By keeping this product in a refrigerator or in a cool dark place, you can keep its bright red and white color for long time.
STANDARD